Could it be that Europe needs more migrants? In today's political climate, calling for more migration sounds almost provoking.
The migration phenomenon is neither new, nor dated. It remains one of Europe's most prominent challenges, puzzling its institutions and citizens alike. In 2020 the newly appointed von der Leyen Commission raised high expectations about a common EU migration policy. However, that optimism quickly vanished as the Commission struggled to find its way in a storm of conflicting views and interests. At the same time, across Europe, the voice of hardline anti-migration nationalism sounds increasingly louder and more confident within national parliaments and the media.
How should national governments, EU institutions, and international organizations respond? Will the EU and its member states engage in a fresh debate leading to a transparent EU migration policy? What would be a pragmatic and balanced paradigm for orderly migration in Europe?
One of the leading EU policy thinkers and influencers, Gilles Merritt, broached these questions in his newest book released in June 2021, entitled: "People Power: Why we need more Migrants". Following earlier compelling works like "Challenges of Freedom" and "Slippery Slope: Europe's Troubled Future", Mr. Merritt now speaks up in favor of orderly migration to solve the challenges of the modern world.
CEIPA launched a conversation with economics and migration expert Giles Merritt, and Ambassador Regine De Clercq, who played a pivotal role in shaping the migration agenda at UN and European levels over the last decades. Below you will find their Curricula Vitae and succinct biography. The interview, moderated by Peter von Bethlenfalvy, Executive Director of CEIPA is available below.
_____________________________
Succint biography of the speakers :
Ambassador  REGINE DE CLERCQ is a former high level Belgian diplomat.  Her diplomatic postings include London, New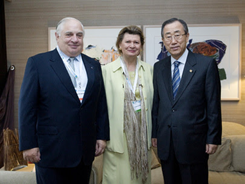 York (UN), Washington DC, Rome (FAO, IFAD, WFD), Paris (bilateral Embassy and OECD) and Bern. In addition, she served in the Permanent Representation of Belgium to the EU. During this time in 2004, she was nominated as "Belgium Ambassador for Migration and Asylum Policy. This handed her the opportunity to actively participate in the preparation of the UN High Level Dialogue on international Migration in 2006. She worked in close cooperation with Mr. Peter Sutherland, the Special Representative for International Migration of UN SG Kofi Annan. Jointly with Peter Sutherland and in cooperation with the EU member states and  a number of UN specialised agencies, Ambassador, De Clercq supervised and directed the follow up of the UN High Level Dialogue on Migration. In 2007, this effort brought into being: the Global Forum on Migration and Development(GFMD). Hereof, she was the first Executive Director and Chair(2007). Thereafter she played a pivotal role in further developing  the scope of work within the GFMD for another two years under Philippine(2008)and Greek(2009)Chairmanship.The GFMD continued to operate on the basis of the modalities which were put in place by the Belgian government under chairmanship of Regine De Clercq. Ambassador De Clercq shaped the 2018 Marrakech UN Global Forum on Migration and Development being there the key note speaker. She remains to be one of the most influential Belgian diplomat dealing with complex multi-lateral issues on UN and international levels respectively.
GILES MERRITT is a journalist, author and broadcaster who has for over four decades specialized in European public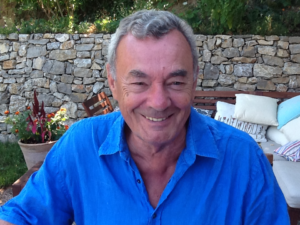 policy questions. In 2010, the Financial Times(FT)named him one of 30 most influential "Eurostar", along with the European Commission's President and NATO's Secretary General.From 1968 to 1983, he served as a foreign correspondent to the Financial Times, whereof the last five years as a Brussels Correspondent. He was successively FT correspondent in Paris, Dublin/Belfast, and Brussels.Twenty –five years, he worked as a contributor of op –ed columns to the International HeraldTribune on European economic and political issues. As a successful writer, he published "World Out of Work"in 1982, an award –winning study of unemployment in industrialized countries. In 1991, he released his second book: "The Challenges of Freedom", which is about the difficulties facing post –communist Eastern Europe. This bookwas published in four languages. In 2016 he published"Slippery Slope: Europe's Troubled Future", a nominee for the European Book Prize. His newestbook entitled "People Power: Why We Need More Migrants"examines the complex economic and political issues surrounding European policies on immigration. It is scheduled to release on June 3 by Bloomsbury's non-fiction imprint I. B. Tauris. Giles Merrit is the founder and the  chairman of "Friends of Europe": the leading Brussels'think tank. In 2005, he also created "Europe's World", the organization's policy journal of which he remains the Editor –in –Chief. "Europe's World"is the only pan-European publication that offers policy makers and opinion-formers a platform for presenting ideas and forging consensus. It has a readership of 120,000 senior decision-makers and opinion-formers. As such Giles Merritt remains to be one of the mos influential personality in Brussels shaping and influencing EU policy making.