The International Round Table "Beyond Human Trafficking & Modern Day Slavery, Turning Global Threats and Challenges Into Prospects" was held on June 17th, 2016  in Vienna, at the Haus der Europäischen Union.
Renowned experts, researchers, practitioners and stakeholders looked at the evolving nature of human trafficking, exchanged views and up-to-date findings, and discussed  good practice, creative solutions and potential ways out of the current crisis scenario.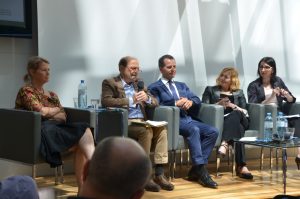 "The past year saw a massive increase in arrivals in Europe of refugees and other migrants. Experts have reviewed the situation and looked at the implications for human trafficking and exploitation and commented on how they would expect these arrivals to affect the market for trafficked people, the job market in general and for cheap labour in particular as well as the effects on the societies and politics of the European countries concerned and the changes in policy that might be anticipated." said Helga Konrad, Head of the Regional Implementation Initiative on Preventing and Combating all Forms of Trafficking in Human Beings.
The event was organized within the framework of the Regional Implementation Initiative on Preventing & Combating Human Trafficking by the Institute for the Danube Region and Central Europe-IDM, in cooperation with the EUSDR-EU Strategy for the Danube Region/Vienna Administration and CEIPA-Center for European and International Policy Action.
Read more.